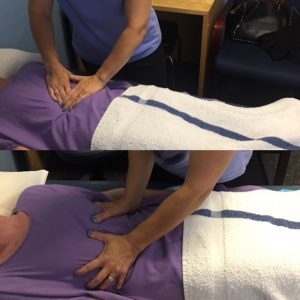 Treating Abdomino-Phrenic Dyssynergia with Pelvic Physical Therapy
Abdomino-phrenic dyssynergia is a functional gastrointestinal disorder (FGID).  The condition involves the abdominal muscles relaxing when they should be contracting and the respiratory diaphragm contracting when it should relax during digestion.  Normally what should occur is the abdominal muscles increase in tone and the respiratory diaphragm relaxes with increased colonic load (as the colon or intestines begin filling).  In patients with abdomino-phrenic dyssynergia the dysfunction leads to abdominal distention, bloating, constipation, and pain.  Abdominal bloating is experienced in 10-25% of healthy people.  However, abdominal bloating is a sign usually seen in patients with Irritable Bowel Syndrome (IBS) or constipation.  More recent explanations for abdominal bloating include imbalance of intestinal flora, weight gain, weak or relaxed abdominal muscles, a contracted diaphragm, and fluid remaining in the small intestine.  Outdated explanations of bloating included excessive intestinal gas, increased lumbar spine lordosis or low back curvature, and psychiatric issues. Common complaints in patients with abdomino-phrenic dyssynergia include increased gas and pressure in the abdomen and a feeling of fullness in the belly. There was speculation about there being weakness in the abdominal muscles yet other studies showed no changes in abdominal muscle surface electromyography(EMG) between patients with abdomino-phrenic dyssynergia and those without. One study noted relaxation of the internal oblique muscles (side belly muscles) with an increased colonic gas load.  Patients may also present with pelvic floor muscle dyssynergia (referred to prior as anismus) contributing to constipation.  Normal pelvic floor muscle activity is for the pelvic floor muscles to relax upon bowel movements.  Paradoxical contraction of pelvic floor muscles occurring in dyssynergia refers to an abnormal increase in pelvic floor muscle activity which hinders normal defecation or emptying.  In other words, the muscles around the anus abnormally contract and tighten instead of relaxing allowing for the anus to open to empty.  Additionally, the motility and mobility of the digestive organs can become impaired or slowed.  This means that there may be sluggish stomach churning of food and slowed peristaltic movement of the intestines.  The bolus of food cannot move through the digestive tract  in an efficient time frame resulting in slowed transit time.
How Can Pamela Morrison Physical Therapy Help Abdomino-Phrenic Dyssynergia?
Our expert physical therapist conducts a comprehensive exam of the spine, pelvis, abdominopelvic viscera (organs), nerve function, pelvic and abdominal musculature. Our thorough exam includes a complete orthopedic lower quarter exam and a pelvic floor muscle exam which can include surface EMG biofeedback.  A treatment plan and goals are established after our therapist identifies the areas that need rehabilitation.  Treatment can include manual therapies to realign the spine and pelvic girdle, improve neural function, and re-establish normal mobility and motility of the digestive organs.  Manual therapies and exercises to address and improve respiratory diaphragm and abdominal wall function and coordination will be incorporated. Balancing movement of the respiratory and pelvic diaphragms (another term of pelvic floor muscles) is facilitated through manual therapies and specific breathing exercises. The two diaphragms need to work in a coordinated fashion to reinstate normal visceral motility and improve organ function. Visceral manipulation is a manual technique that is used to help the digestive organs re-establish normal motility and mobility. The goal is to improve or normalize transit time of the colon.  Our therapists are trained in these advanced therapies.  Intestinal massage and abdominal wall massage are also performed. This is performed in a systematic fashion and is also instructed as a home exercise program.  Surface EMG biofeedback can be included in your individualized treatment program to help improve pelvic floor muscle function and reverse pelvic floor muscle dyssynergia.  Surface EMG pelvic floor muscle biofeedback focuses on down-training and relaxation when overactivity is occurring.  Neuromuscular re-education techniques are utilized to help patients learn better control of pelvic-abdomino-thoracic muscular activity and function.  We have had good success helping patients with Abdomino-Phrenic Dyssynergia.